Graphs Data Structure
Binary Search Tree
A Binary Search Tree (BST) is a special type of binary tree in which the left child of a node has a value less than the node's value and the right child has a value greater than the node's value. This property is called the BST property and it makes it possible to efficiently search, insert, and delete elements in the tree.
In a Binary search tree, the value of left node must be smaller than the parent node, and the value of right node must be greater than the parent node. This rule is applied recursively to the left and right subtrees of the root.
Left node > Parent node > Right node
Red-Black Tree
When it comes to searching and sorting data, one of the most fundamental data structures is the binary search tree. However, the performance of a binary search tree is highly dependent on its shape, and in the worst case, it can degenerate into a linear structure with a time complexity of O(n). This is where Red Black Trees come in, they are a type of balanced binary search tree that use a specific set of rules to ensure that the tree is always balanced. This balance guarantees that the time complexity for operations such as insertion, deletion, and searching is always O(log n), regardless of the initial shape of the tree.
Red Black Trees are self-balancing, meaning that the tree adjusts itself automatically after each insertion or deletion operation. It uses a simple but powerful mechanism to maintain balance, by coloring each node in the tree either red or black.
Properties of Red Black Tree
The Red-Black tree satisfies all the properties of binary search tree in addition to that it satisfies following additional properties –
Root property: The root is black.

External property: Every leaf (Leaf is a NULL child of a node) is black in Red-Black tree.

Internal property: The children of a red node are black. Hence possible parent of red node is a black node.

Depth property: All the leaves have the same black depth.

Path property: Every simple path from root to descendant leaf node contains same number of black nodes.
The result of all these above-mentioned properties is that the Red-Black tree is roughly balanced.
Graph Data Structure
A graph is a non-linear data structure consisting of nodes and edges. The nodes are sometimes also referred to as vertices and the edges are lines or arcs that connect any two nodes in the graph. More formally a Graph can be defined as, a Graph consists of a finite set of vertices(or nodes) and set of Edges which connect a pair of nodes.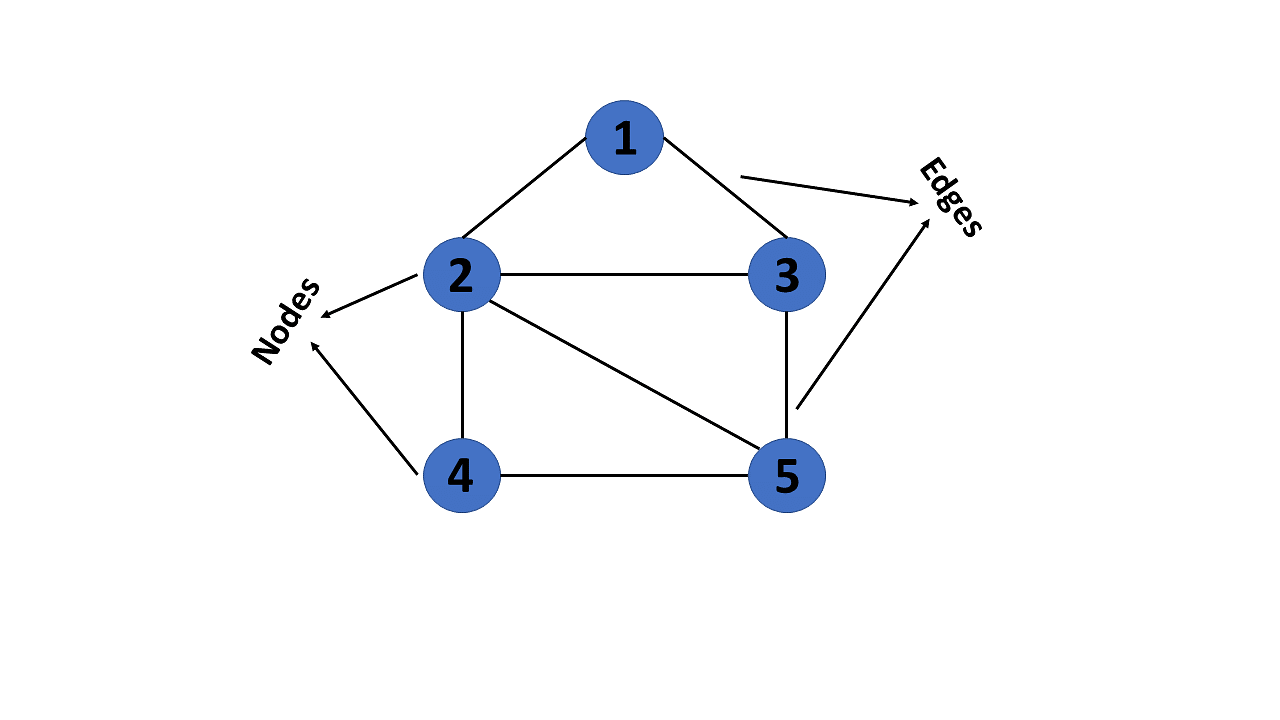 In graph theory, a graph is a mathematical structure consisting of a set of objects, called vertices or nodes, and a set of connections, called edges, which link pairs of vertices. The notation:
\[ G = (V, E) \]
is used to represent a graph, where \(G\) is the graph, \(V\) is the set of vertices, and \(\bigvee\) is the set of edges.
The nodes of a graph can represent any objects, such as cities, people, web pages, or molecules, and the edges represent the relationships or connections between them.
import

 

networkx

 

as

 

nx




import

 

matplotlib.pyplot

 

as

 

plt





G

 

=

 

nx

.

Graph

()




G

.

add_edges_from

([(

'A'

,

 

'B'

),

 

(

'A'

,

 

'C'

),

 

(

'B'

,

 

'D'

),

 

(

'B'

,

 

'E'

),

 

(

'C'

,

 

'F'

),

 

(

'C'

,

 

'G'

)])





plt

.

axis

(

'off'

)




nx

.

draw_networkx

(

G

,


                 

pos

=

nx

.

spring_layout

(

G

,

 

seed

=

0

),


                 

node_size

=

600

,


                 

cmap

=

'coolwarm'

,


                 

font_size

=

14

,


                 

font_color

=

'white'


                 

)



/home/docs/checkouts/readthedocs.org/user_builds/ml-math/envs/latest/lib/python3.10/site-packages/networkx/drawing/nx_pylab.py:433: UserWarning: No data for colormapping provided via 'c'. Parameters 'cmap' will be ignored
  node_collection = ax.scatter(